JANUARY, 2013 - EHSAAS ORPHANAGE - KUKRAIL PARK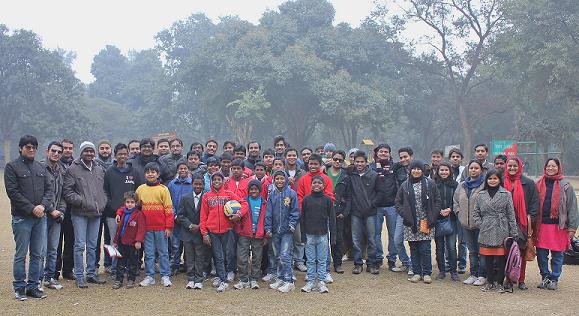 5th January 2013 - in3corp Lucknow started the New Year on an exciting and adventurous note by organizing a trip for the children of 'Ehsaas' to Kukrail park.
Kukrail Park is a forest reserve that was developed for breeding reptiles such as crocodiles, alligators and tortoises. However, it also has ample open space for people to enjoy picnics and to have a good time.
A number of in3 personnel travelled to Ehsaas on the chilly Saturday noon. The kids welcomed us with hand-made New Year cards and they were excited to meet us. Our team later joined other in3 personnel at Kukrail. We were the biggest group in that park that day.
Straightaway, the kids and few in3 personnel ran to the play ground with bats, stumps and balls in anticipation of a cricket match. The boys had a volleyball match with 15+ in each team. Members of teams mingled, joked, chatted and played together. Then we gathered everyone for a stroll in the park-including a view of some domestic crocodiles! Then there was time for lunch. We gathered everyone for a group photograph and afterwards everyone wanted a picture with Nick Brown (in3 Director of Global Operations) who obliged them with smiles.
Overall it was a rejuvenating and memorable day.
About Ehsaas:
Ehsaas is an organization whose objective is to make meaningful social changes in the lives of the underprivileged children. More detail can be found at their website www.ehsaas.org